AFTER - Recovery drink (15x20g)
A high-quality technical recovery drink, especially created to meet the needs of the most demanding sportsmen and women. 
Complete and novel formula combining brown rice protein hydrolysates, vitamins, antioxidants, mineral salts (electrolytes) and Q10 coenzyme
First Swiss drink labelled SPORT Protect – the anti-doping guarantee
Available in 20g packets or 480g jars
Pour contribuer à une bonne récupération
Ce produit est entré dans ma routine sportive après chaque entraînement ou compétition. L'amélioration de la récupération a été flagrante depuis sa prise. Le seul bémol était le goût qui n'était pas top initialement mais qui a été bien amélioré depuis sa nouvelle formule.
After un jour, after toujours!
Après chaque entrainement et aucune courbature (kickboxing, course à pied)!
Le client a noté le produit mais n'a pas rédigé d'avis.
Excellent
Je ne peux plus m'en passer! En association avec la boisson d'effort NOW, la boisson AFTER est idéale après les entraînements car elle apporte l'essentiel. Le goût est bon et frais, pas du tout sucré, donc parfait après le sport.
Lactose Free

Gluten Free
Want to know
more?
After an intense training session, the body puts in place physiological mechanisms in order to recover and, ideally, improve its fitness level: this is called overcompensation. The aim of the recovery drink AFTER is to use overcompensation so as to recover more effectively.
To achieve this, the following ingredients have been combined in ideal proportions:
A brown rice hydrolisate protein, easily digestible
Trace elements and amino acids - creatine, L-glutamine, zinc, copper
mineral salts – also called electrolytes - magnesium, calcium, sodium and potassium
essential vitamins - B1, B2, B3, B5, B6, B8, B9, B12, C, and E
a combination of carbohydrate - maltodextrin & dextrose
The Sport Protect label
It is impossible to talk about performance without talking about health. So as to guarantee safe products, Sport Protect has been providing anti-doping solutions since 2005. Affiliating standards, an organisation and a label, Sport Protect wishes to eradicate inadvertent doping. Our performance and recovery drinks are the first Swiss drinks to have obtained this label!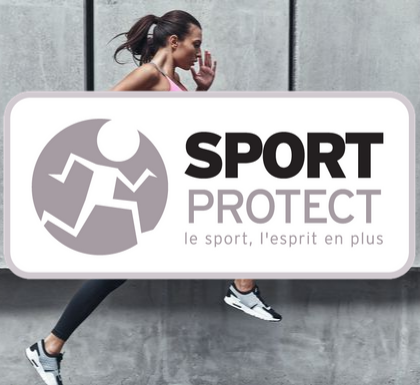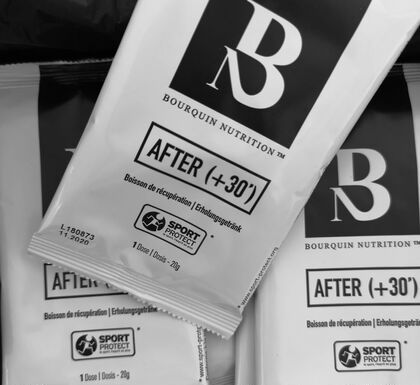 More than just an intake of protein
Even if protein is essential for repairing muscle fibres damaged during exercise, a recovery drink should offer more than quality amino acids. It should also rehydrate the body with a large quantity of minerals and also rebalance the body's PH (often acidified by exercise), fight against the free radicals generated by exercise (antioxidant action) and replenish the glycogen stock.
Better recovery, improved performance
Recovery is an integral part of training. It is essential for improving sporting performance, as without it the body does not regenerate and tires. The result? Decreased performance, fatigue, over-training and injuries. Rest, nutrition, massages and recovery drinks all aim to improve recovery and make it as effective as possible.